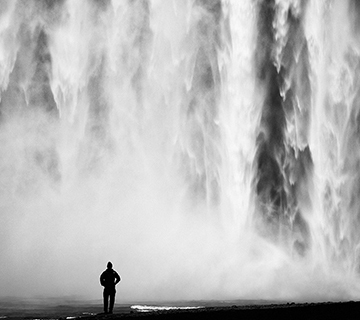 In our continuing effort to learn more about and better understand racial injustice and inequality, Pastor Jim will be leading a seven part Zoom discussion of the podcast "Scene on Radio, Season 2: Seeing White," by John Biewen. Scene on Radio is the Peabody-nominated podcast from the Center for Documentary Studies (CDS) at Duke University. Even though "Season 2: Seeing White" was made back in 2017, they are extremely relevant for us today in 2020.
Here is the description of "Season 2: Seeing White" from the Scene on Radio website:
Just what is going on with white people? Police shootings of unarmed African Americans. Acts of domestic terrorism by white supremacists. The renewed embrace of raw, undisguised white-identity politics. Unending racial inequity in schools, housing, criminal justice, and hiring. Some of this feels new, but in truth it's an old story.
Why? Where did the notion of "whiteness" come from? What does it mean? What is whiteness for?
Scene on Radio host and producer John Biewen took a deep dive into these questions, along with an array of leading scholars and regular guest Dr. Chenjerai Kumanyika, in this fourteen-part documentary series, released between February and August 2017. The series editor is Loretta Williams.
We will be discussing the fifteen episodes (fourteen regular episodes, and one bonus episode) on Zoom over the span of seven weeks, Thursday evenings from 7:00 to 8:00 pm, beginning September 10. Here is the schedule we will follow:
September 10
Episode 1: Turning the Lens (16 minutes)
An introduction to our series exploring what it means to be White.
Episode 2: How Race Was Made (28 minutes)
For much of human history, people viewed themselves as members of tribes or nations but had no notion of "race." Today, science deems race biologically meaningless. Who invented race as we know it, and why?
Episode 3: Made in America (33 minutes)
Chattel slavery in the United States, with its distinctive – and strikingly cruel – laws and structures, took shape over many decades in colonial America. The innovations that built American slavery are inseparable from the construction of Whiteness as we know it today.
September 17
Episode 4: On Crazy We Built a Nation (36 minutes)
"All men are created equal." Those words, from the Declaration of Independence, are central to the story that Americans tell about ourselves and our history. But what did those words mean to the man who actually wrote them?
Episode 5: Little War on the Prairie (63 minutes)
Growing up in Mankato, Minnesota, John Biewen heard next to nothing about the town's most important historical event. In 1862, Mankato was the site of the largest mass execution in U.S. history – the hanging of 38 Dakota warriors – following one of the major wars between Plains Indians and settlers.
September 24
Episode 6: That's Not Us, So We're Clean (40 minutes)
When it comes to America's racial sins, past and present, a lot of us see people in one region of the country as guiltier than the rest. Host John Biewen spoke with some white Southern friends about that tendency.
Episode 7: Chenjerai's Challenge (14 minutes)
"How attached are you to the idea of being white?" Chenjerai Kumanyika puts that question to host John Biewen, as they revisit an unfinished conversation from a previous episode.
October 1
Episode 8: Skulls and Skin (46 minutes)
Scientists weren't the first to divide humanity along racial – and racist – lines. But for hundreds of years, racial scientists claimed to provide proof for those racist hierarchies – and some still do.
Episode 9: A Racial Cleansing in America (29 minutes)
In 1919, a white mob forced the entire black population of Corbin, Kentucky, to leave, at gunpoint. It was one of many racial expulsions in the United States. What happened, and how such racial cleansings became "America's family secret."
October 8
Episode 10: Citizen Thind (38 minutes)
The story of Bhagat Singh Thind, and also of Takao Ozawa – Asian immigrants who, in the 1920s, sought to convince the U.S. Supreme Court that they were white in order to gain American citizenship. Thind's "bargain with white supremacy," and the deeply revealing results.
Episode 11: Danger (46 minutes)
For hundreds of years, the white-dominated American culture has raised the specter of the dangerous, violent black man. Host John Biewen tells the story of a confrontation with an African American teenager. Then he and recurring guest Chenjerai Kumanyika discuss that longstanding image – and its neglected flipside: white-on-black violence.
October 15
Episode 12: My White Friends (40 minutes)
For years, Myra Greene had explored blackness through her photography, often in self-portraits. She wondered, what would it mean to take pictures of whiteness? For her friends, what was it like to be photographed because you're white?
Bonus Episode: Losing Ground (51 minutes)
For Eddie Wise, owning a hog farm was a lifelong dream. In middle age, he and his wife, Dorothy, finally got a farm od their own. But they say that over the next twenty-five years, the U.S. government discriminated against them because of their race, and finally drove them off the land.
October 22
Episode 13: White Affirmative Action (48 minutes)
When it comes to U.S. government programs and support earmarked for the benefit of particular racial groups, history is clear. White folks have received most of the goodies.
Episode 14: Transformation (44 minutes)
The concluding episode in our series, Seeing White. An exploration of solutions and responses to America's deep history of white supremacy
To sign up to be part of this discussion group, or if you have any questions, please email Pastor Jim by CLICKING HERE. The Scene on Radio podcasts can be listened to or downloaded from the Scene on Radio Website by CLICKING HERE, or from your preferred podcast app.